Never worry about your hot water needs again! We offer innovative tanked and tankless hot water heaters in the Edmeston and Cooperstown, that provides an endless supply of hot water whenever and wherever you need it, even for simultaneous usage at multiple fixtures. Our tankless water heaters are perfect for your new home or as a replacement to your existing electric hot water heater. Rebates may be available.
Need to replace your "tanked" hot water heater in Edmeston or Cooperstown? No problem, we offer B-vent and power vent models.
Call us or email us today for a free quote.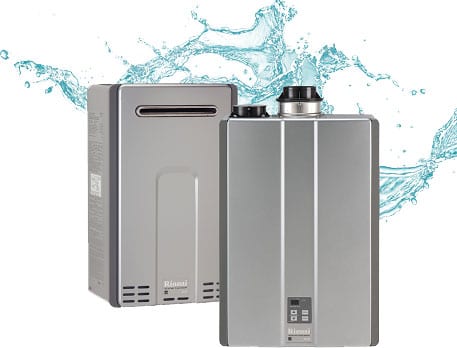 Rinnai Tankless Hot Water Heaters Save Time, Energy and Space.
Our economical and efficient Rinnai tankless hot water heaters in Edmeston and Cooperstown use natural or propane gas to heat water only when you need it.  When water flow is detected, your hot water heater begins heating water, then shuts down using no energy when the demand for water ceases. The endless hot water supply delivers 240 gallons or more per hour with no recovery time, maintaining a consistent safe temperature.
Our Rinnai tankless hot water heaters in Edmeston and Cooperstown are the wave of the future.
 Saves up to 40% energy cost versus traditional water heaters.
Offers "Green" technology that captures 84% of heat energy.
Has a 20 year typical life span.
Bradford White Power Vent (TTW®) Hot Water Heaters Deliver High Efficiency and Advanced Technology.
Made-in-America is something Bradford White of Middleville, Michigan plant is proud of.  As they continue to grow and expand, this manufacturing company is dedicated to staying here and providing quality products to make your life easier.
Download our brochures so you're well informed to
make the best decision for your home and your family.