Space Heaters & Furnaces in Cooperstown & Edmeston
If you are looking to stay warm this winter look no further than our space heaters and furnaces here at Norton's Gas in Edmeston. Residents of Cooperstown and Edmeston are just a phone call away from getting a high tech space heater or furnace that is perfect for a single room or a whole home. We sell, deliver, and install heating equipment in our home town and nearby communities like Cooperstown and Sherburne.  Have a look at some of the great brands we have to offer below.
RINNAI Direct Vent Wall Furnaces:
Make every room in your home comfortable.
Rinnai, has created all of our products to deliver the kind of performance that makes you comfortable on every level.  That means you can count on Rinnai EnergySaver® Direct Vent Wall Furnaces to go beyond warmth, all the way to unparalleled peace of mind and efficiency.
Transform any living space, from your basement to a sunroom.  Even your whole home, with self-adjusting heat that will keep the room temperature consistent, from floor to ceiling.  Know that nearly 100 years of engineering, quality and confidence go into every product.
With a Rinnai EnergySaver® DIRECT VENT WALL FURNACES, you can be assured of consistent comfort and warmth.
Designed to constantly monitor room temperature, Rinnai's unique modulating technology can respond immediately to even the smallest temperature fluctuations.
How It Works:
Constantly monitors room temperature 2" from the door

Consistently detects temperature changes of less than 1° F

Within seconds, the Rinnai EnergySaver® Direct Vent Wall Furnace begins to gently heat the room

Fan speed and BTU output increase as necessary to reach the preset temperature

As the room reaches the desired temperature, the EnergySaver® Direct Vent Wall Furnace reduces fan speed and BTU output

In case of a sudden influx of cold air, the EnergySaver® Direct Vent Wall Furnace automatically adjusts fan speed and BTU to quickly restore warmth to the room.

Heat is distributed evenly and heat loss is minimized since Rinnai EnergySaver® Direct Vent Wall Furnaces require no ductwork.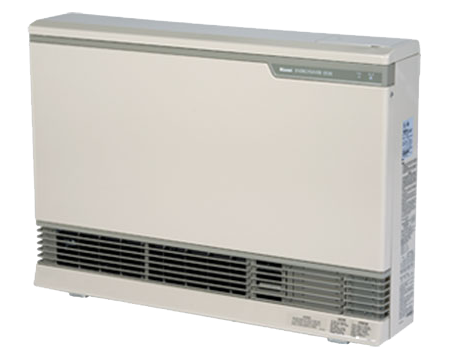 EMPIRE Direct – Vent Wall Furnaces
Empire Heating systems Radiant models produce an infrared "radiant" heat that instantly adds warmth to you and objects in the room just like the sun.
Small Direct-Vent Wall Furnaces:
DV-210 (10,000 Btu) and DV-215 (15,000 Btu)

Slim, compact cabinet mounts on an outside wall

Quiet operation

Matchless piezo ignition (heats without electricity)

Optional automatic blower

Ideal for bedrooms or studies

Made in USA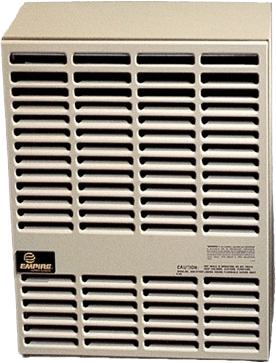 Mid-Size Direct-Vent Wall Furnaces:
DV-25 (25,000 Btu) and DV-35 (35,000 Btu)

Console cabinet mounts on an outside wall

Quiet operation

Matchless piezo ignition (heats without electricity)

Optional automatic blower

Ideal for family room

Made in USA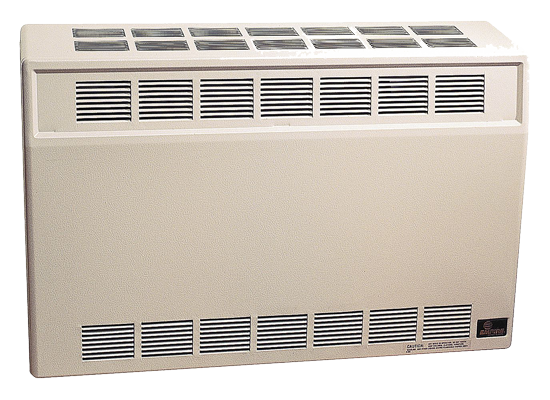 Counterflow Direct-Vent Wall Furnaces:
Mounts along Outside Wall – draws outside air for combustion and vents to outdoors

DVC-35 (35,000 Btu) recesses between standard Wall Studs

DV-55 (50,000 Btu) and DVC-35 (35,000) install on outside wall

Optional 24-Volt Wall Thermostat

Choose Standing Pilot or Electronic Intermittent Pilot (saves even more energy)

Front Panels Remove for Cleaning and Servicing

Counterflow Blower Circulates Warm Air at Floor Level

Multi-Room Heating Capacity with Optional Outlet Kits

Up to 76% A.F.U.E. efficient

Made in USA